Here are some great Ballerina Room Decor Ideas for your Girl!
Walls
Ehmm… what color should we pick to perfectly suit this ballerina bedroom?
OK, OK, I heard you, of course I know it's PINK!! :)
Pink is like the national color of ballerina country, so it's the perfect choice for the ballerina bedroom.
But we should also remember that many mommies out there use pink for their girl's ballerina room decor, so if you want yours to be different and unique, there are actually some other colors to choose from.
Light purple and magenta are also good. As long as the color is soft and girlie, it will suit this theme.
Other option to make it unique is to combine some colors. Using wallpaper is an easy way to do this.
Just pick wallpaper that has combination of 2 or 3 soft colors. If it has some ballerina drawings or ballet shoes or tutus on it, that's good, the "ballet feel" of the room will be stronger. But if it doesn't, that's OK, we can still add some accents later.
Have extra free time? Want some more FUN? Let's grab some wall paints, acrylic paints, and paint brushes! :)
First, paint all the walls with soft pink as a background. Let it dry.

Then use medium brown to make a line accent with the width of 1 centimeter on about 1.1 meters from the floor. And make a second line about 10 centimeters above the first one.

TIPS:

Use masking tapes (it's also called painter's tape or paint tape) to make a fine straight line. This kind of tape is specially made for protecting surfaces from "accidents" when we paint. It's easy to put on and it's easy to remove.
Other kind of tapes will be harder to remove and might leave a mark on your wall!

Paint the area in between the lines with darker pink (darker than the soft pink used for the rest of the wall, but not too dark).

Search for a simple ballet-related picture on the internet, such as a girl ballerina or a pair of cute ballet shoes.

Resize the picture until its height is about 6-7 centimeters and print it.

Use graphite transfer paper to trace the picture along the darker pink area. Give some space between two pictures/patterns, make the space about 1.5 times the picture's width. Keep this space width consistent.

Then use Acrylic Paints to paint the picture.
TIPS:
Pick a simple drawn picture instead of a photo to be used as a pattern for your ballerina room decor, photos are more difficult to be drawn.
Use combination of two pictures for variation if you like, but don't use more than three.
For another variation, make a pattern of small round shape with the diameter of 1.5-2 centimeters and paint it in between two pictures. Use medium brown as the color (same as the lines). You can also use other shapes such as heart or spade.
The scales mentioned here are not rules! Make your own scale as you like, just make sure it's not too big or too small.
Beddings and Windows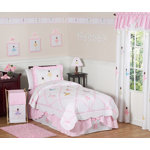 Ballerina Kid
(Twin/Full/Queen)
Bedroom Collection from $39.99 Also available in:
Toddler Bedding Collections
Many stores out there, online or offline, offer great choices of kid's bedding. They vary in design, style, and price.
So, the easiest way to find the perfect bedding for this ballerina bedroom is to go out hunting at those furniture stores in your area or go hunting online.
But even the easiest way might not be THAT easy. It might take some time to find that PERFECT one. But hey, no rush, it's a fun activity anyway! :)
Look for a set of bed cover and pillow shams with ballerina prints on it. It would be most likely in pink. Plain white or soft pink bed sheet will do just fine for this ballerina room decor.
Have you picked other color than pink for the walls?
Don't worry! As long as the walls are in soft colors, pink ballerina bedding would still fit.
For the windows treatment, pick one that matches the bedding. Some beddings are sold in a set that also includes curtains, valance, even lamp shade and hamper. These sets are great for a theme room.
Or you can just use white or soft pink curtains for the windows and then add a ballerina valance.
Oh yeah, BTW, it's a lot more FUN to take your Girl along in the hunt for her ballerina room decor. Make sure she likes it, or it won't be well-spent money. Take your whole family if possible, make it a fun family activity!
TIPS:
Set up a budget for this before you and your girl go shopping, not vice versa. This will prevent you from spending more than you can afford, especially if you're using credit cards for your payment.
If you have a very limited budget, you don't have to buy a set of ballerina bedding.
Pick a ballerina comforter and combine it with a plain white or soft pink bed sheet and pillow shams. It would still look great because most area of the bed will be covered by the comforter.
Rugs
It's gonna be great if you can find a ballerina rug for this ballerina bedroom, but if you can't find one we can still play with colors.
Pick a shaggy pink rug or other colors that suit your ballerina room decor. For example, if you make the brown line accent on the walls as instructed above, light brown rug is also good.
Thinking about color combinations?
Look for an area rug with the combination of the room's main color and white. There are lots of it out there, it should be easy to find.
TIPS:
For this ballerina bedroom, plain colored rugs are better than printed ones. Children's rugs with flower prints, for example, might look "girlie" but will blur the ballet theme itself.
Stripes or shape variations are still good though.
Other Accessories
There are LOTS of accessories that can be added for this ballerina bedroom. Here are some ideas:
Hang a large picture or drawing of a ballerina or a group of ballerinas above the bed. Pick one with the color that suits this theme room's main color.

Look for a small or medium-sized ballerina picture frame, use it to frame one of her photos and put it on her night table.

Hang smaller pictures of your girl on some of her ballet performances. Or if she hasn't performed yet, hang pictures of her ballet practices. Use brown wooden frame or silver metallic frame.

If you have some extra budget, look for other ballet themed furniture such as ballerina rocking chair, drawer knobs, etc.
No extra budget? Don't worry, re-painting your old furniture with the color that suits the room's main color will do just fine. Resize the tables or chairs to suit your kid's age if possible and necessary.

On your girl's birthday, give her a ballerina music box as a gift to make her ballerina room decor even more complete.
Have some FUN creating your Ballerina Room Decor!! :)