Although Egyptian bedroom is more popular among adults, there's no reason to avoid this for your kid's bedroom. Especially if your kid is interested in mummies, pyramids, and other historical things Egypt famous for.
Having an Egyptian bedroom might even intrigues him/her into studying history and anthropology.
And who says Egyptian decor is always all classic and antique?
We can always do something to make this a fun one!
How do we do that?
Well, for example, you can forget those expensive ancient Egyptian potteries or antiques and go for mummy plush toys and cute night lights instead.
One thing to keep in mind, Egyptian decor are mostly related to Gold and Black colors. Any centerpiece item for your Egyptian bedroom should be in these colors.
Egyptian Wall Decor
Cleopatra and Pharaoh Custom Sized Mural from $81.60
If you've been to Egypt or seen pictures of it you'll notice that Egyptian walls and pillars are full of carvings, especially on historical sites.
The carvings are of ancient Egyptian symbols that pictures their daily lives and believes. These picture symbols are ancient Egyptian writing system called hieroglyph.
But of course you don't have to learn too much about hieroglyphic art or carve your walls to create a nice Egyptian wall decor for this theme room. You can simply hunt for hieroglyphic wallpaper or wall stencils.
Camels are used as a common transportation in Egypt, so camel wall murals or wallpaper border also fit this Egyptian bedroom nicely.
While decorating with murals, whether you use stencils, stick-up ones or even paint your own, always remember not to make your walls overcrowded. Leave enough empty space for the eyes to rest.
Here is another easier and simpler idea: you can just paint the upper walls soft gold and the lower walls black, then add an Egyptian wallpaper border.
If you decide to paint the walls plain, some Egyptian themed wall art will get you into the theme. The Mummy movie poster, hieroglyphic wall art, pictures or paintings of pyramids and sphinx, and cute cartoonic camel wall art (especially for younger kids) are some ideas of what you can hang on the walls.
Egyptian Furniture, Bedding, and Curtain
For this bedroom's Egyptian furniture, you can look for ancient-looking ones. Preferably ones with simple lines and NOT those vintage-looking with victorian style carvings.
On the budget? Get yourself simple lines unfinished furniture and paint it classic dark mahogany. It'll look great in this Egyptian bedroom.
After putting the furniture in, now you need to dress up the bed and windows.
Can't find an Egyptian bedding? Don't worry, any gold bedding set will do fine. It's even better if it has some black accent on. Gold and ivory is also good.
Look for same color tones for this theme room's curtains.
Or you can look for any Egyptian themed or plain golden fabric and make your own matching bedding set and curtains.
Other Egyptian Bedroom Accessories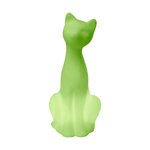 Siamese Cat Lamp $ 79.00
Universal Monsters Mummy Action Figure $ 15.99
Remember that details make the difference, so don't wrap up your Egyptian decor just yet! Not before you add some details to it!
Here are some ideas:
Do you know that cats are sacred in ancient Egypt and that most modern cats are descendants of the cats of ancient Egypt?

Considering these facts, some cats in the room will surely look nice. Of course it doesn't have to be real ones. You can use cat figurines, wall painting, throw pillows, or even plush toys. It'll even be nicer if the cats are in black or gold to match this theme room's color tone.

Egyptian mummification is well known around the world. Mummies are often the first thing that attracts many kids' interest into other Egyptian related things. The Mummy starring Brendan Fraser was also a hit movie.

These reasons put mummy on the top list of what you should have to decor your kid's Egyptian bedroom. Hunt for mummy decor items such as mummy night light, The Mummy figurine or cutout, or even pictures of real Egyptian mummy.

Another thing Egypt famous for are pyramids and sphinx. Remember to also have these in your Egyptian decor. You can look for pyramid shaped table lamp, large pictures of The Great Pyramids of Giza and The Sphinx, or Sphinx figurine.

Egypt is a country with its majority area lies on deserts. Camels are often used as transportation in the desert. So you can also include this animal in your Egyptian decor.

If your kid loves The Mummy movie, get some of their merchandise.